Creating a modern workplace powered by digital transformation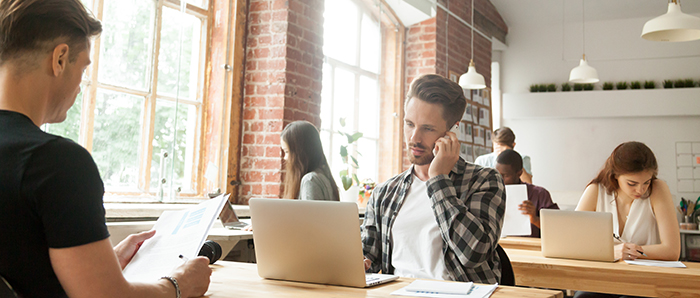 Creating a modern workplace should be a key priority for all organisations. After all, ignore or neglect it and you risk creating a working environment which lags behind your competitors, damages your reputation as an employer and reduces productivity, creativity and innovation.
But what does it actually mean to create and maintain a modern workplace – and how can technology help you to achieve this simply and cost-effectively?
This blog explores the modern workplace vision in relation to digital transformation – and examines how Microsoft 365 could be the ideal foundation for achieving that vision.
The modern workplace: powered by digital transformation
The business world has changed almost beyond recognition over the past decade or so, and these changes are primarily because of digital transformation.
Yet 'digital transformation' is not a singular concept. It is a phrase with multiple meanings. On one hand, it describes the sophisticated technology – both hardware and software – that consumers deploy in their everyday lives, and which they therefore expect to be able to carry through into their places of work, and their interactions with companies. Much of this technology enables mobility, with people able to work and communicate on the move, anytime, anywhere.
On one hand, it describes the enormously networked nature of organisations and individuals today, whereby information can be shared globally in an instant. New models of collaboration and cooperation, both within and between organisations, are therefore possible.
On another hand still it refers to data production and processing; the digital era enables organisations to generate and capture previously untapped data, and process it in greater volumes and with more efficiency than ever before, driving tangible business insights.
The best way of envisioning the modern workplace, then, might be to create a workplace that has undergone digital transformation, and continues to embrace it on an ongoing basis.
Microsoft's four pillars of digital transformation
Nevertheless, this is clearly a huge proposition. If 'digital transformation' itself is not a singular concept, how can organisations deliver a set of instructions for achieving it? Surely this isn't just as simply as deploying a few of the latest software applications that are doing the rounds in a particularly industry?
Clearly not. Here, it is useful to turn to Microsoft, which has suggested a model of digital transformation encompassing four key pillars. By thinking about all four pillars, and the kinds of digital technologies which can best enable and empower them, the contention is that businesses will be better placed to develop a truly holistic and sustainable model of digital transformation. Digital transformation will not then be a project for its own sake, but rather a multifaceted drive towards more effective and innovative working practices.
The four pillars are as follows:
Engage your customers. This pillar focuses on using technology to drive more efficient and interactive customer engagement. Why broadcast blindly to your customers when you can start personalised conversations? Why stick to a single communication channel when another one might suit your customers better? Why silo customer communication away from the data that can help optimise those conversations, such as product information, product and service development, and sales records? Digital technologies sitting within this pillar might include communication platforms, or analytics tools to delve deeper into customer databases and create tangible insights for improving the customer experience.
Empower your employees. This pillar turns the focus inwards and considers how digital technologies can be used to improve working practices for your staff. How can they be empowered to work more effectively both as individuals, and as teams or an overall workforce? Digital technologies sitting within this pillar might include the standard productivity tools that your staff require, such as email, voice and virtual meetings services, as well as collaboration tools such as shared document repositories and the ability to create polls and feedback forums.
Optimise your operations. This pillar again looks inwards, focusing on how the day-to-day operations of your organisation can be made as seamless, cost-effective and easy to manage as possible. This pillar perhaps varies more than any other from industry to industry; perhaps your business has a fleet of vehicles and a logistics operation to manage, or perhaps your run a manufacturing floor full of expensive hardware. However, the principles of innovation and efficiency remain remarkably similar across all sectors. Digital technologies of relevance here might include Internet of Things (IoT) ecosystems designed to draw operational insights from across your organisation and make operations easier to manage. Or, there might be some overlap with the 'empower your employees' pillar, with a focus on ensuring that staff can share information quickly and easily.
Transform your products. Under this pillar, the focus once again looks beyond your organisation, and considers how technology can be used to develop new products and services. There are multiple different angles to this. Digital technology may be actually embedded in products, as with connected devices. Or, digital technology in the form of data analytics may develop insights which inform how new offerings are developed. Regardless, true digital transformation cannot just be focused on the day-to-day; it must look ahead and be focused on positioning the organisation as competitively as possible – which means developing the best products possible.
Beyond technology
Nevertheless, to think of digital transformation – and the modern workplace itself – in terms of technology deployments alone is very restrictive. Workplaces, after all, are nothing without the people within them.
The modern workplace is not merely distinctive in terms of the technology that can be deployed within it; it is also distinctive in terms of the cultures and practices expected by its employees. As millennials make up an ever-greater proportion of the modern workforce, their desires for mobile and flexible working practices, transparency and collaboration over strict hierarchies, and a genuine sense of purpose and empowerment in everything they do are becoming increasingly influential. The modern world has in many ways blurred the distinctions between work life and home life, but millennials and 'digital natives' nevertheless are motivated by finding the right balance between these two elements. They are also typically interested in collaborative and communicative working practices, in keeping with the highly social and hyper-connected lives they are able to lead away from the office.
As such, the modern workplace needs to embrace and even enhance these behaviours and expectations, rather than working against them. considering anyway.
How Microsoft 365 can empower all four pillars
Microsoft 365 is a complete, intelligent solution which comprises Office 365, Windows 10, and Enterprise Mobility and Security. In Microsoft's own words, is designed to deliver.
Creativity. Through a range of innovative productivity tools, which increasingly blur the lines between digital and physical creativity
Teamwork. Through a suite of collaboration and communication tools. Drawing on the company's expertise in videoconferencing and team-working through tools like Skype for Business, Microsoft 365 employs the newer Teams application, built from the ground up to encourage collaborative working.
Many of the applications within Microsoft 365 will already be familiar to your business. After all, the Office productivity suite has been at the heart of most enterprise operations for decades. However, by offering these tools – and continually developing news ones – via a single cloud-based deployment, Microsoft has struck on a truly integrated and seamless model of enterprise IT.
Together, creativity and teamwork can help your organisation be a truly modern workplace, continually working to optimise the four pillars of digital transformation, whilst also placing employee experience and activity at the heart of everything you do.
The marriage of people and technology is, perhaps above all else, what characterises the modern workplace – and Microsoft 365 can help you get there.
To find out more about APH's services click here, or to arrange a meeting to transform your workplace modern get in touch.